ilitary force is the muscle underlying all the kingdoms of Khadoria. In managing your armies, you may select from seventy-five different types of combat specialist, and then further customize your fighting force with upgrades to skills and equipment.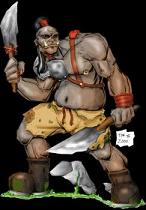 Troll footmen, elven archers and even huge monstrous drakes are just a few of your military options, and with experience, your forces will learn, harden and increase in power! Feel like dominating the oceans of Khadoria? Then build a mighty navy, complete with pirate guilds, artillery and ship-jumping marines!

Unique heroes and army commanders enter battle wielding powerful magic and deadly weapons. The heirs of your noble heroes can be trained as Dragonknights, Wizards, Barbarians, Assassins, Tacticians or Crusaders, and may also claim the noble titles of their fallen lords!