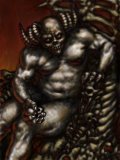 The Imperial Heralds of Khadoria announce that the years of The Imperial Resurgence have come to an end finalized by the sudden vengeful cataclysm evoked by Torgul the God on all the lands of the Khadorian Empire. New forces are moving in Khadoria.

And while Torgul sits and smirks in his evil den we can prepare ourselves for The Mirror Black and ponder the genious and the strategies demonstrated by the heroes of old. Many heroic warlords have risen to fame and fortune and a few of them will be honored below.

Read the Player Chronicles!
Tales from the battlefield.


TOP CLANS

The Horsemen of the Apocalypse
with the greatest honor average

Preachers
with the second greatest honor average

The Brotherhood
for having most members ever

The Khadorian Rangers
for teaching most new players ever

Call of the Tenebres
for being the first french clan

The Church
for having the weirdest clan logo






TOP 10 Players

Episode: The Last Stand
February 2005 - May 2006

Selin
Egatlas
Yona Burur
Curt
Kakashi
Selfist
Satan
Foxy
Diablo
V
The Shephard
Ironfisto
Rogue

Episode: The Imperial Resurgence
July 2003 - February 2005

Diablo
Curt
JoKeR
Yona Burur
MindBender
Satan
RedScorpio
V
Tazmissle
GrimRipper
DaGarf

Episode: The Early Years
November 2001 - July 2003

Mindbender
Tazmissle
Torbin
Char
DekeFentle
Apocalypse|Now
Shadow|Bane
Spiralkill
StormKnight
Maldito






Many other great players and clans have fought on the traditional battlefields of Khadoria and we THANK YOU ALL!